LAL-D in infants is historically also known as Wolman disease1
LAL-D IS RAPIDLY FATAL IN INFANTS WITHIN 12 MONTHS2
Kaplan-Meier Estimate: Survival in 35 Infants with Lal-D2,

a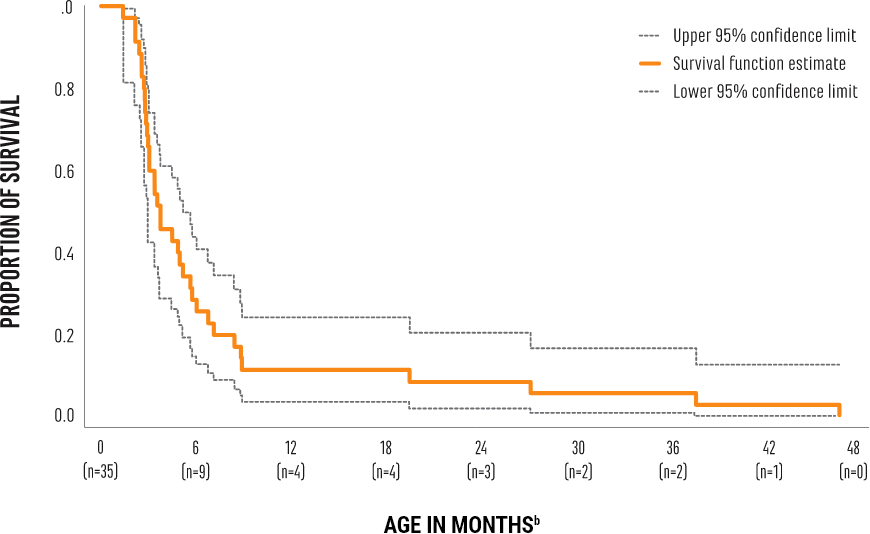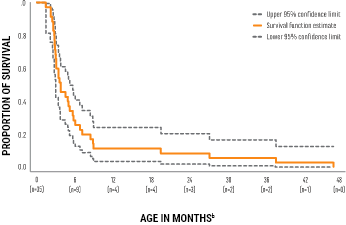 Image reproduced with permission from Jones SA, et al. Genet Med. 2016;18(5):452-458.
aA retrospective chart review and data extraction of 35 patients diagnosed with LAL-D before age 2 (26 with growth failure before 6 months of age; 9 without). Early growth failure was defined as fulfillment of 1 or more of the following criteria before 6 months of age: (1) decreased body weight across ≥2 of the 11 major percentiles on a standard World Health Organization (WHO) weight-for-age chart; (2) body weight below the tenth percentile on a standard WHO weight-for-age chart and no weight gain within the previous 2 weeks; (3) loss of ≥5% of birth weight in children >2 weeks of age.
bRange: 1.4 to 46.3 months.
In infants, look for the following symptoms suggestive of LAL-D1:
In infants, LAL-D may produce symptoms and laboratory findings similar to familial hemophagocytic lymphohistiocytosis (F-HLH), including increased ALT1,3-5
A diagnosis of LAL-D does not exclude the possibility of F-HLH, and vice versa6-8
Ensure that genetic testing includes LIPA as well as the mutations involved in F-HLH5,9
Abbreviations: ALT, alanine aminotransferase; LAL-D, lysosomal acid lipase deficiency.
References: 1. Reiner Ž, et al. Atherosclerosis. 2014;235(1):21-30. 2. Jones SA, et al. Genet Med. 2016;18(5):452-458. 3. Bode SFN, et al. Arthritis Research & Therapy. 2012;12:213. 4. Tinsa F, et al. J Pediatr Hematol Oncol. 2019;41:e193-e196. 5. Jordan MB, et al. Pediatr Blood Cancer. 2019;66:e27929. 6. Santos Silva E, et al. Clin Res Hepatol Gastroenterol. 2018;42:e77-e82. 7. Chabchoub I, et al. J Pediatr Hematol Oncol. 2020;42(4):310-312. 8. Klaudel-Dreszler M, et al. Abstract H-O-22. 49th Annual meeting of the European Society for Paediatric Gastroenterology, Hepatology and Nutrition. Athens, Greece. May 25-28, 2016. 9. Cohen JL, et al. J Rare Dis. 2019;14:198. 10. Lukacs Z, et al. Clinica Chimica Acta. 2017;471:201-205.
ENZYME ACTIVITY TESTING FOR LAL-D IS FAST INVOLVING JUST A BLOOD DRAW.
EXPEDITE INFANT SAMPLES WITH YOUR LABORATORY1,10
Learn more about testing
REGISTER TODAY

and receive all the latest LAL-D information.
*All fields are required