Mechanism of Disease
In cells missing the vital LAL enzyme, upregulation of cholesterol synthesis resulting from cellular dysfunction leads to ongoing lysosomal accumulation1
LAL-D is characterized by Disrupted Cholesterol Metabolism and Intracellular Accumulation of Lipids Across Organ Systems1,3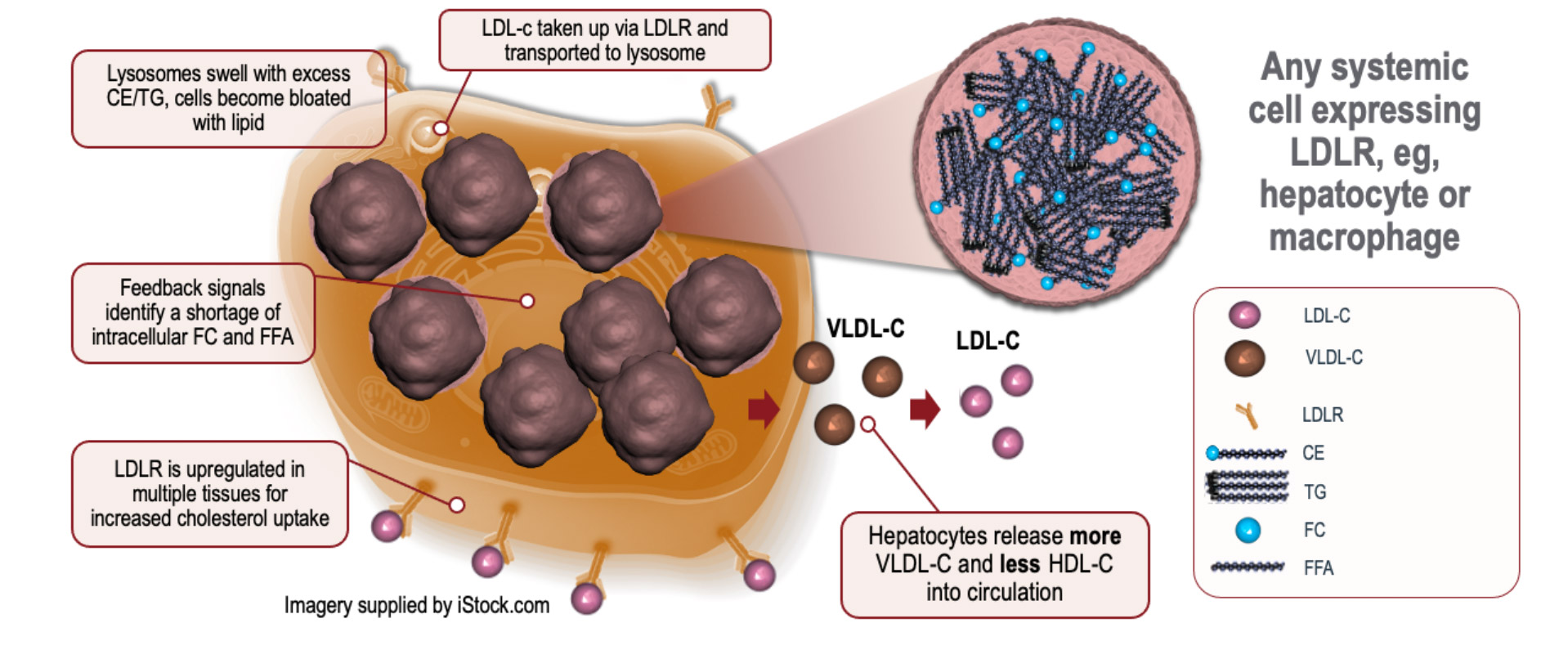 LAL-D LEADS TO PROGRESSIVE MULTISYSTEM ORGAN DAMAGE2
LAL-D is characterized by disrupted cholesterol metabolism and intracellular accumulation of lipids across organ systems2
Lipa Mutation1
Missing or decreased LAL enzyme1
Lysosomal accumulation of CE/TG1
Dysregulated lipid metabolism1
Systemic Manifestations
POSSIBLE/POTENTIAL CONSEQUENCes
Liver1,2
Hepatomegaly
Hepatic injury
↑ ALT
↑ AST
POSSIBLE/POTENTIAL CONSEQUENCes
Microvesicular or mixed steatosis
Fibrosis
Cirrhosis
Portal hypertension
Liver failure
HEART1,2
Dyslipidemia
↑ LDL-C
↓ HDL-C
POSSIBLE/POTENTIAL CONSEQUENCes
Accelerated atherosclerosis
Coronary artery disease
Stroke
Myocardial infarction
Spleen1,2,4
POSSIBLE/POTENTIAL CONSEQUENCes
Anemia
Thrombocytopenia
Risk of traumatic rupture and/or splenectomy
Intestine1,2
Intestinal lipid accumulation
POSSIBLE/POTENTIAL CONSEQUENCes
Abdominal pain
Malabsorption
Growth failure
Abbreviations: ALT, alanine aminotransferase; AST, aspartate aminotransferase; CE/TG, cholesteryl ester/triglyceride; FC, free cholesterol; FFA, free fatty acid; HDL-C, high-density lipoprotein cholesterol; LAL-D, lysosomal acid lipase deficiency; LDL-C, low-density lipoprotein cholesterol; LDL-R, low-density lipoprotein cholesterol receptor; VLDL-C, very low-density lipoprotein cholesterol.
References: 1. Reiner Ž, et al. Atherosclerosis. 2014;235(1):21-30. 2. Bernstein DL, et al. J Hepatol. 2013;58(6):1230-1243. 3. Grabowski G, et al. The Online Metabolic and Molecular Bases of Inherited Disease. New York, NY: McGraw Hill; 2012. 4. Radhakrishnan N. Splenomegaly. http://misc.medscape.com/pi/android/medscapeapp/html/A206208-business.html. Accessed November 14, 2020. 5. Lukacs Z, et al. Clinica Chimica Acta. 2017;471:201-205.
REGISTER TODAY

and receive all the latest LAL-D information.
*All fields are required